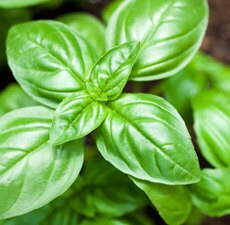 Basil is An Incredible Herb Packed With Health Benefits
Who knew basil was such an incredible herb?  I didn't, to me it was just an herb that made my baked chicken or spighetti sauce taste good.  I was so impressed that I started growing my own, so I could use it fresh.  Then I added it to every dish that I thought could use another layer of flavor.  
The house smells incredible when cooking with basil, it really enhances the favor of sauces and meats. After cleaning kitchen counter tops there is a fresh clean scent left behind with the added benefit of destroying bacteria.
The astouding facts about basil  (also called sweet basil) is a great source of Vitamin A which is important for normal vision, the immune system and the repoductive system.  Vitamin A helps the heart, lungs, kidneys, and other organs work properly.  
Other imprtant components of basil are magnesium, potassium, iron, and calcium;  all of which the body need to maintain optimun health.  Basil has been used for centuries to treat all kinds of health issues including cold and flu symptoms 
You can use basil oil in your home to remove bacteria from kitchens and bathrooms, prevent contaimnations, and purify the air.  Try diffusing or combining it in a spray bottle with water to wipe down surfaces in your home. This solution can also be used to clean produce.
Inhaling basil can help restore mental alertness and fight fatigue as it is a natural stimulant that works on the nervous system and adrenal cortex.  It reduces sluggishness, brain fog, sore muscles and poor moods that come along with adrenal fatigue or chronic fatigue.
The Benefits Of Basil Taken Internally
The FDA recognizes pure basil oil as safe for consumption (by 21CFR182.20), but Only when using 100 percent therapeutic-grade, high-quality oil. Purchase your oil from a reputable seller and check the ingredient label carefully. You should only buy an oil that is made from the Ocimum basilicum. You can add a drop to water or take it as a dietary supplement by mixing it with raw honey or into a smoothie.  I normally add a drop or two to my bottled water and sip on it until the bottle is empty.
If you like drinking tea, fresh basil leaves steamed in hot water makes an excellent tea.  I like mine straight, however  if you like honey and lemon, go for it.
 Additionally, basil essential oil is said to enhance mood, improve digestion, increase alertness, and soothe muscle aches. Basil essential oil is also sometimes used as an insect repellent. 
 In alternative medicine, basil essential oil is typically used for the following health problems: 
Benefits of Basil Essential Oil 
•Relieves Congestion 
•Natural Cold And Flu Remedy 
•Helps Relieve Muscle Aches 
•Improves Energy 
•Helps Treat Earaches 
•May Assist In Treatment Of Some Forms Of Cancer 
•Natural Insecticide 
•Antiviral 
•Anti-Inflammatory 
•Antioxidant 
•Antimicrobial 
•Anti-Fungal
So, as you can see Basil offers many valuable health benefits for the entire family.  Why not give it a try.
Scented Home Fragrance